Inspired by Kimchi Fries from Coreano, Auckland, New Zealand
Coreano takes authentic Korean flavours and mashes them with mexican street food. I first tried this dish at their pop-up store when living in Auckland, New Zealand.
Who doesn't love a good fusion dish? Especially one that gets it right. We've got pulled pork, spicy Kimchi, and a creamy mexican crema.
It's tangy, it's sweet, it's spicy. The pulled pork is melt in your mouth, the Kimchi is crunchy and a little sour and they come together on a perfect hot crispy french fry.
Are you sold?
Just before I left Auckland, New Zealand, fusion food was getting bigger. One in particular caught my eye, Coreano – blending authentic Korean flavours with Mexican food. Both cuisines are already known for having bold flavours, it was either going to be a hit, or a dud.
If you're a regular Kimchi eater, you'll know it's an acquired taste. It's a bit like the sauerkraut of the east, a fermented spicy cabbage that once you love it, you're hooked.
If you couldn't tell from the mouthwatering combinations, korean and mexican? It works. These loaded fries are a sensory experience, they're great to look at and taste even better than you can imagine.
All the dressings. From (L-R) Salsa Roja, Coriander, Kimchi, Shallots, Mexican Crema, Carnitas
The loading process, first the carnitas, shallots and kimchi
Grilling the kimchi mellows out the sourness of the cabbage while retaining its crunch and spice. The mexican crema adds a creamy component that calms down some of the heat while bringing all the flavours together in one bite.
Grab a fork and… dig in!
A little bite of everything in a perfect mouthful
Time to try it for yourself! These are great for having a few friends over, give each person a DIY plate or just a (almost) lazy dinner for one. If you have all the ingredients ready this is an easy Under 30 minute dish to throw together.

| | |
| --- | --- |
| | |
RECIPE
Cook your fries until crispy and golden.

While the fries are cooking, heat your carnitas and get the rest of your toppings ready.

In a pan grill the kimchi until warm, then finely slice and put aside with the rest of the toppings.

To serve: Place your fries on a tray, then top with the carnitas, kimchi, shallots. Add the cheese if using - if not drizzle your salsa roja, then mexican crema and finally a good sprinkling of the chopped coriander.

Then dig in! Lots of napkins, highly recommended. Bon appetit! Victoria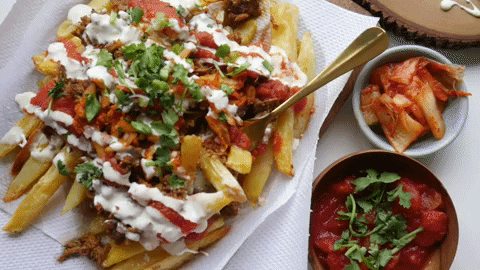 *I made my mexican crema with 50% sour cream, 50% heavy cream and a little water to thin. Mix well and let sit at least 15 minutes.
** Great if you have leftovers! Otherwise I simmered 250g of pork shoulder with some cumin, paprika, cayenne, coriander, orange juice, salt and pepper on low for 3-4 hours. Then shred!
PIN ME FOR LATER!