Hi! I'm glad you found us, Welcome to Food Racket – a place where Food, Travel and Culture meet.
About Food Racket
Are you the person that's always looking for the latest restaurant or cafe to try because 'omg they just opened and their Instagram looks ah-mazing'
.. or the person that spends six hours cooking on the weekend because you felt like pho, but then you had to make your own broth.. but that's totally your idea of fun
.. or the person that's happy to stand in line for 50 minutes because this cheese tart place has been all over the Internet and you just have to try it?
Maybe you're the person that always puts your hand up to host a small gathering at yours because "guys, I can put a bit of food and drink together" but secretly you're already excited and super giddy because that means omgmenucreation time but you have to play it low-key and be all like, "i just threw this together"
(even though you wrote like four different variations because does everyone like Mexican and are Taco cups fun or cheesy? and maybe you should go spanish and make patata bravas.. buuuuut what if someone's low carb oooooooh maybe grilled chicken lemongrass skewers would be good..")
If you're nodding your head right now. We get you.
Food Racket is a Food Recipe website for the Food obsessed. 
You'll find simple recipes.
You'll find thisisgoingtotakemethreedays kinda recipes.
You'll find Japanese inspired, the New York deli down the road or the Thai Street Food inspired dishes.
It's stuff you can make at home.
But at the end of the day – it's just tasty food.
Food Racket is about a Food escape.
Beautiful Food that you want to make at home and share with your loved ones.
from Dragonfruit smoothie bowls..
to Egg Waffles with Ferrero Rochers
and Char Kuey Teow
Recipes that

inspire you

to eat your way around the world.
…. more about Victoria (the girl behind Food Racket)
I'm Victoria.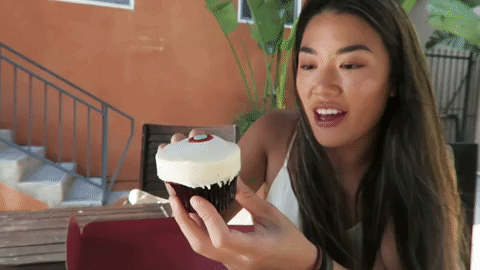 Yeah that's me, the girl that gets crazy eyes about Food.
I love everything about Food. Eating, cooking, learning about Food.
When I worked one of my first jobs at a coffee shops, I was the girl that bought a store sandwich press… and made bacon wrapped hot dogs on it because I saw it on Man vs Food.
I'm the girl that crowdsourced a list of dessert places to visit on my first trip to the USA. You can see one of the posts, and check out the spreadsheet (i know) here.  I ended up eating an average I'd say of three desserts a day over a five week trip.
You'll often find me cooking late at night, making a cheesecake, bread, pizza dough. Just because I feel like cooking – it's therapeutic for me.
I once waited for over an hour at an ice cream store and over 30 minutes in line for a bakery.
Find out more about me by following me on my Socials!